Cyberoam NetGenie for Home
A genie to protect your family and devices from Internet risks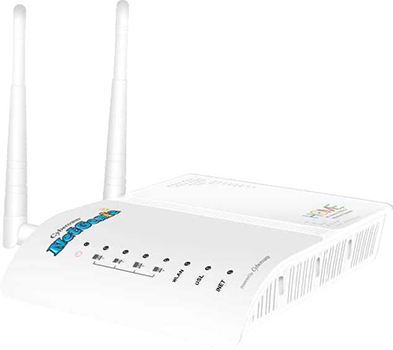 Sorry, this product is no longer available, please contact us for a replacement.
NetGenie for Home Overview: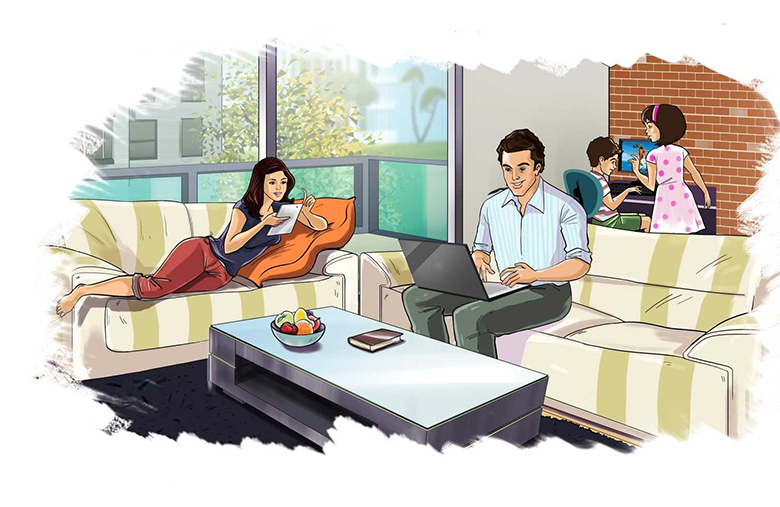 Age-wise Parental Controls
Protection from Bots & Hackers
Excellent Wireless Range & High Performance
Supports VDSL2, ADSL2+, Cable Internet, 3G USB modem
Cyberoam NetGenie is a Smart Wireless Router that protects families, children and devices at home from Internet risks. NetGenie blocks harmful Internet content for all family members and offers peace of mind to parents jittery about their children's Internet safety. Allow access to Internet content suitable for your child's age with NetGenie's age-wise Parental Control feature. Create an "Internet time-table" with NetGenie's time-based Internet controls.
NetGenie secures and shares Internet connectivity across all Internet-access devices like desktop, laptop, PDA, smartphones, tablets and other handheld devices. Keep your family protected from hackers and botnets when they surf online,with features like firewall and Intrusion Prevention System.
With NetGenie, get support for all types of Internet connectivity, viz. VDSL2, ADSL2+, Cable Internet and 3G connection, along with excellent wireless range, high performance, Gigabit port and threat-free Wi-Fi over multiple devices. Get Internet activity reports of children at home along with security reports of your home network. You can manage NetGenie settings through a web-based GUI over any Internet-access device in your home network.
Features & Benefits: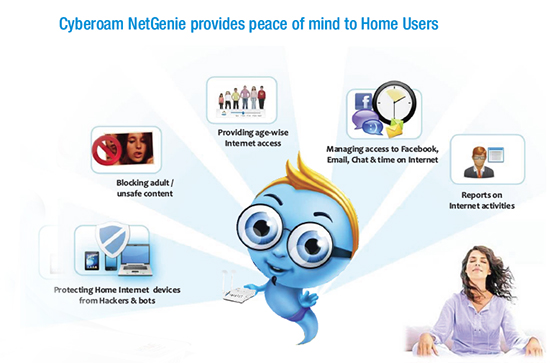 Cyberoam NetGenie Features

Age-wise Parental controls

Block harmful Internet content for all family members. Provide age-appropriate Internet access to children and monitor their online activities. Manage their time over Facebook, Email, chat, games and more, with NetGenie's in-built 70+ categories.

Excellent Wireless Range & High Performance

Experience a true Wi-Fi home and enjoy Internet browsing from your laptops, smartphones, tablets and more. Play online games, enjoy HD video and high bandwidth downloads.

Protection from Bots & Hackers

Protect your desktop, laptops, handheld devices like mobile phones and tablets, gaming consoles, and IPTV from hackers and bots when online with security features like in-built Firewall and Intrusion Prevention System.

Threat-Free Wi-Fi

Prevent unauthorized access into your home Wi-Fi network, the moment you turn on NetGenie, without the need for manual settings.

Secure Wi-Fi for Multiple Devices

Secure Wi-Fi surfing over laptops, smartphones, tablets, gaming consoles and more when surfing online.

Supports VDSL2, ADSL2+, Cable Internet, 3G USB modem

Next time when you switch your Internet connectivity, you don't need to worry about changing your router.

Share your 3G USB modem Internet

Share Internet over your USB broadband with multiple users at same time.

Gigabit Port
Specifications:
NetGenie v/s Others
NetGenie VDSL2/ADSL2+
Normal Wi-Fi router
Wi-Fi Access Point
Yes
Yes

Threat-Free Wi-Fi

Yes
No
Protection from Bots & Hackers
Yes
No
Advanced Parental Controls
Yes
No
Website & Application Filtering
Yes
No
User-wise Internet controls for websites, applications
Yes
No
Age-appropriate Internet access
Yes
No
Pre-categorized list of Websites & Applications
Yes
No
Schedule-based Internet Access
Yes
No
Reports
Internet activity reports of each user
Yes
No
Internet Threat reports
Yes
No
Technical Specs
Interfaces



RJ11
1 DSL Line Port (RJ11)
RJ45
1 Gigabit LAN port (RJ45) (MDI/MDIX),
3 10/100M LAN Ports (RJ45) (MDI/MDIX)
USB Port
1 (2.0, Host)


Wireless Features and Performance*



Wireless Standards
IEEE 802.11 b/g/n
Antenna Power
External, 3 dBi
Wireless transmit power
20dBm
Access Points
Multiple SSID (up to 4) WPA / WPA2, WEP encryption
Data Rate
Upto 300 Mbps
Number of selectable channels
11 Channels (US, Canada)
13 Channels (Europe)
14 Channels (Japan)
RF Operating Frequency
2.4 Ghz
Range
Indoor: up to 100 meters; Outdoor: up to 300 meters

VDSL and ADSL Features

Fullrate ANSI T1.413 issue 2
ITUT G.992.1 (G.dmt), supporting Annex A
ITU TG.992.2 (G.lite), supporting Annex A
ITUT G.992.3 (G. dmt.bis), supporting Annex A, Annex L and Annex M
ITUT G.992.4 (G.lite.bis), supporting Annex A
ITUT G.992.5 (ADSL2+), supporting Annex A, Annex L and Annex M
ITUT G.993.2(G.vdsl2) (Profile 8a, 8b, 8c, 8d, 12a,12b and 17a)
ITUT G.994.1 (G.hs) and G.993.1 VDSL
Support Band Plan 997 and 998 and 3/4/5/6 band
Data Transmission Rate
Upstream: Up to 50 Mbps, Downstream: Up to 100 Mbps.
Rate Adaptive at 32 Kbps steps

ATM and PPP Features

RFC2684 Bridge and Routed LLC & VC
RFC2364 PPP over ATM AAL5
RFC2516 PPP over Ethernet
RFC2225/RFC1577 Classical IP over ATM
RFC1483 Transparent Bridge
RFC 1483/2684 Bridged Ethernet
ATM Forum UNI 3.1/4.0, ATM Adaptation Layer Type 5AAL5
VPI Range (0255) and VCI range (3265535)
UBR, CBR, VBRrt, VBRnrt
F4/F5 OAM Loopback
AIS and RDI OAM cells Supports 16 PVCs

Network Protocols

Static IP
Network Address Translation (NAT)
Port Forwarding
NAT Application Level Gateway for popular applications
DHCP Server /client
DNS Relay Agent
DDNS support
UPnP (Universal Plug and Play)
PPP Auto Reconnect
ALG for SIP, FTP, TFTP, H323, IRC, PPTP and RTSP

Parental Control

Website Filtering & Application Filtering
Identitybased Internet Access
Block offensive and inappropriate websites and applications
Ageappropriate Internet access
Website and Application Control – Block or provide scheduled access to website categories and applications (e.g. Games, Facebook, Chat etc)
MAC address white list

Security Features

Firewall with SPI (Stateful Packet Inspection)
IP Sharing Method Network Address Translation (NAT)
Intrusion Prevention System (IPS)
Authentication protocols PAP, CHAP, TCP/IP/Port filtering rules, Port
Forwarding, Packet and MAC address filtering, Access control

Management

Userfriendly Web Interface
Password Protected System Management
Automatic/manual system clock synchronization with NTP server
Configuration backup and restoration
Software upgrade via HTTP
NetGenie DDNS

Reports

Monitor web and application activity of each family member over Internet
Websites visited, Applications used

Compliance

Warranty

Localized to country of sale

Power

| | |
| --- | --- |
| External Power adapter | 100240 VAC |
| Humidity | 10 ~ 90% (noncondensing) |
| Operating temperature | 0°C~40°C |
| LEDs | PWR,LAN1,LAN2,LAN3,LAN4,WLAN,DSL,INET |

Minimum Requirements

Internet Explorer 7, Chrome or Firefox 3 or higher for browserbased configuration
Windows XP, Vista, or Vista 64bit Edition, Windows 7, Linux based OS, Mac OS with Latest Updates
Wired or Wireless Network Adaptor
VDSL/ADSL Internet connection with RJ11

Package Contents

Appliance x 1
Antenna x 2
RJ11 cable x 1
RJ45 cable x 1
External splitter x1
MultiCountry Power Adapter x 1
USB broadband extension cable x 1
Quick Start Guide x 1