Cyberoam CR2500iNG-XP

Next-Generation Firewall for Enterprise Networks
Cyberoam – a Sophos Company, secures organizations with its wide range of product offerings at the network gateway. For the latest Cyberoam products, please visit our Sophos's store EnterpriseAV.com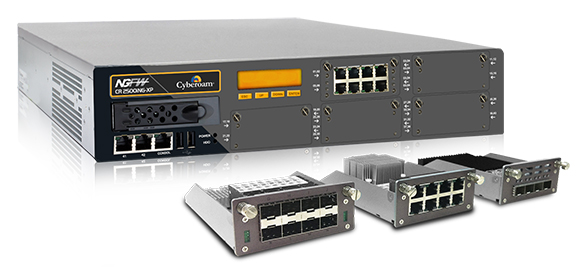 Sorry, this product is no longer available, please contact us for a replacement.
Overview:
The mobilization of workforce has led to demand for anytime-anywhere access to network resources. This, along with increasing number of users like customers and partners connecting to an enterprise network from outside, and trends like rise in number of network users and devices, application explosion, virtualization, and more are leading to loss of security controls for enterprises over their networks. Cyberoam Next-Generation Firewalls (NGFW) with Layer 8 Identity-based technology offer actionable intelligence and controls to enterprises that allow complete security controls over L2- L8 for their future-ready security. Cyberoam's Human Layer 8 acts like a standard abstract layer that binds with real Layers 2-7, enabling organizations to regain lost security controls.
Cyberoam CR2500iNG-XP offers inline application inspection and control, website filtering, HTTPS inspection, Intrusion Prevention System, VPN (IPSec and SSL) and granular bandwidth controls. Additional security features like WAF, Gateway Anti- Virus, Anti-Spam are also available. The FleXi Ports (XP) available in CR2500iNG-XP appliances offer flexible network connectivity with I/O slots that allow additional Copper 1G, Fiber 1G/10G ports on the same security appliance.
Cyberoam security appliances offer high performance, assured Security, Connectivity and Productivity and an Extensible Security Architecture (ESA) for future-ready security in enterprises.
Next-Generation Firewall for Enterprises:
Offering Actionable Intelligence and Controls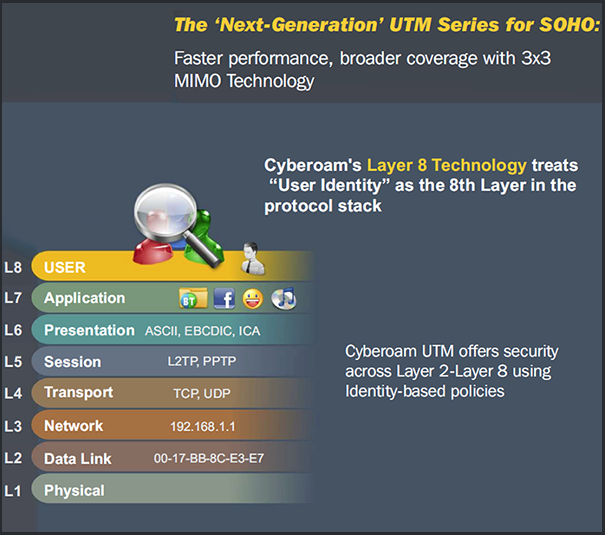 Cyberoam UTM features assure Security, Connectivity, Productivity

Security

Network Security

Firewall
Intrusion Prevention System
Wireless Security

Content Security

Anti-Virus/Anti-Spyware
Anti-Spam (Inbound/Outbound)
HTTPS/SSL Content Security

Administrative Security

Next-Gen UI
iView- Logging & Reporting

Connectivity

Business Continuity

Network Availability

VPN
3G/4G/WiMAx Connectivity

Future-ready Connectivity

Productivity

Employee Productivity

Content Filtering
Instant Messaging Archiving & Controls

IT Resource Optimization

Bandwidth Management
Traffic Discovery
Application Visibility & Control

Administrator Productivity
Features:
The Cyberoam NGFWs offer next-generation security features to organizations to protect against newly-evolving threats.

Layer 8 Identity-based Security
Cyberoam's Layer 8 Technology treats user identity as the 8th layer or the "human layer" in the network protocol stack. This allows administrators to uniquely identify users, control Internet activity of these users in the network, and enable policy-setting and reporting by username – adding speed to security. Cyberoam's Layer 8 security binds with Layer 2 to Layer 7 giving better security controls over the network and offers Layer 8 Identity-based security over AAA (User Authentication, Service Authorization, Audit with logs /reports).

Application Visibility & Control
With an industry-leading coverage of 2000+ applications, Cyberoam's Application Visibility & Control feature enables prioritization of applications based on User Identity, time, applications, and bandwidth, allowing great flexibility and real L2-L8 visibility & control. Advanced application controls classify applications based on their risk level, characteristics and technology, offering more granular controls. The pro-active protection model eliminates the need for manual intervention by administrator to update policy for new applications that are being added to the list.
Intrusion Prevention System
Cyberoam Intrusion Prevention System protects against network and application-level attacks, securing organizations against intrusion attempts, malware, Trojans, DoS and DDoS attacks, malicious code transmission, backdoor activity and blended threats.

First-of-its-kind On-appliance Reporting
Cyberoam has been the first and only vendor in the industry to offer on-appliance reporting with real-time logs and reports, saving the cost of deploying a dedicated reporting solution. The 1200+ in-depth reports offer real-time visibility into user and network activities, helping organizations to manage security, display compliance and forensic analysis, unmatched by any network security vendor till date. Cyberoam reports include dynamic and animated reports, in-line graphs, and country maps.

Virtual Private Network
Cyberoam VPN (IPSec and SSL) offers secure remote access, ensuring secure endpoints and network with its Threat-free Tunneling Technology.

Web Filtering
Cyberoam's award-winning Web Filtering offers one of the most comprehensive URL databases with millions of URLs grouped into 89+ categories. It blocks access to harmful websites, preventing malware, phishing, pharming attacks and undesirable content that could lead to legal liability and direct financial losses.

Web Application Firewall
Cyberoam offers an on-appliance Web Application Firewall subscription to secure websites and Web-based applications in organizations against attacks such as SQL injection, cross-site scripting (XSS), URL parameter tampering, session hijacking, buffer overflows, and more, including the OWASP Top 10 Web application vulnerabilities.

QoS / Bandwidth Management
Cyberoam enables organizations to tie bandwidth policies to users, user groups, Applications, Website Categories, Firewall rules, and more. Cyberoam's granular Layer 7 and Layer 8 Bandwidth controls allow prioritization of business-critical applications and users for bandwidth allocation, ensuring assured QoS for business-critical applications like VoIP and CRM. Granular bandwidth controls allow committed bandwidth to critical users at all times and also allow policies to assign idle bandwidth to other applications automatically, delivering optimal use of idle bandwidth and higher ROI.
Based on the need, Enterprises can get additional security features like Web Application Firewall, Gateway Anti-Virus, Gateway Anti-Spam, and more.
Specifications:
Specification

Interfaces

| | |
| --- | --- |
| Maximum number of available Ports | 42 |
| Copper GbE Ports (Fixed) | 10 |
| Number of Slots for FleXi Ports Module* | 4 |
| Port Options for FleXi Ports Module (GbE Copper/GbE Fiber/10GbE Fiber) | 8 / 8 / 4   |
| Console Ports (RJ45) | 1 |
| Configurable Internal/DMZ/WAN Ports | Yes |
| USB Ports | 2 |

System Performance*

| | |
| --- | --- |
| Firewall Throughput (UDP) (Mbps) | 60,000 |
| Firewall Throughput (TCP) (Mbps) | 36,000 |
| New sessions/second | 300,000 |
| Concurrent sessions | 10,000,000 |
| IPSec VPN Throughput (Mbps) | 9,000 |
| No. of IPSecTunnels | 5,000 |
| SSL VPN Throughput (Mbps) | 1,450 |
| WAF Protected Throughput (Mbps) | 2,600 |
| Anti-Virus Throughput (Mbps) | 6,500 |
| IPS Throughput (Mbps) | 16,000 |
| NGFW Throughput (Mbps)*** | 8,000 |
| Fully Protected Throughput (Mbps)**** | 5,500 |

Stateful Inspection Firewall

Layer 8 (User - Identity) Firewall
Multiple Security Zones
Access Control Criteria (ACC) : User - Identity, Source and Destination Zone, MAC and IP address, Service
Security policies - IPS, Web Filtering, Application Filtering, Anti-Virus, Anti-Spam and Bandwidth Management
Application (Layer 7) Control and Visibility
Access Scheduling
Policy based Source and Destination NAT
H.323, SIP NAT Traversal
802.1q VLAN Support
DoS and DDoS Attack prevention
MAC and IP-MAC filtering and Spoof prevention

Application Filtering

Inbuilt Application Category Database
2,000+ Applications Supported
Schedule-based access control
Block
Proxy and Tunnel
File Transfer
Social Networking
Streaming Media
Layer 7 (Applications) & Layer 8 (User - Identity) Visibility
Securing SCADA Networks
SCADA/ICS Signature-based Filtering for Protocols
Modbus, DNP3, IEC, Bacnet, Omron FINS, Secure DNP3, Longtalk
Control various Commands and Functions

Intrusion Prevention System (IPS)

Signatures: Default (4500+), Custom
IPS Policies: Multiple, Custom
User-based policy creation
Automatic real-time updates from CRProtect networks
Protocol Anomaly Detection
DDoS attack prevention
SCADA-aware IPS with pre-defined category for ICS and SCADA signatures

User Identity and Group Based Controls

Access time restriction
Time and Data Quota restriction
Schedule-based Committed and Burstable Bandwidth
Schedule-based P2P and IM Controls

Administration and System Management

Web-based configuration wizard
Role-based access control
Firmware Upgrades via Web UI
Web 2.0 compliant UI (HTTPS)
UI Color Styler
Command Line Interface (Serial, SSH, Telnet)
SNMP (v1, v2, v3)
Multi-lingual support: English, Chinese, Hindi, French, Japanese
Cyberoam Central Console (Optional)
Network Time Protocol Support

User Authentication

Internal database
Active Directory Integration
Automatic Windows Single Sign On
External LDAP/RADIUS database integration
Thin Client support - Microsoft Windows Server 2003/2008

Terminal Services and Citrix XenApp - Novell eDirectory

RSA SecurID support
External Authentication - Users and Administrators
User/MAC Binding
Multiple Authentication servers

Logging and Monitoring

Graphical real-time and historical monitoring
Email notification of reports, gateway status, viruses and attacks
Syslog support
Log Viewer - Firewall, IPS, Web filter, WAF, Anti Virus, Anti Spam, Authentication, System and Admin Events

On-Appliance Cyberoam-iView Reporting

Integrated Web-based Reporting tool - Cyberoam-iView
1200+ drilldown reports
45+ Compliance Reports
Historical and Real-time reports
Multiple Dashboards
Username, Host, Email ID specific Monitoring Dashboard
Reports - Security, Virus, Spam, Traffic, VPN, Search Engine keywords
Multi-format reports - tabular, graphical
Exportable formats - PDF, Excel
Automated Report Scheduling

Virtual Private Network

IPSec, L2TP, PPTP
Encryption - 3DES, DES, AES, Twofish, Blowfish, Serpent
Hash Algorithms - MD5, SHA-1
Authentication - Preshared key, Digital certificates
IPSec NAT Traversal
Dead peer detection and PFS support
Diffie Hellman Groups - 1,2,5,14,15,16
External Certificate Authority support
Export Road Warrior connection configuration
Domain name support for tunnel end points
VPN connection redundancy
Overlapping Network support
Hub and Spoke VPN support

SSL VPN

TCP and UDP Tunneling
Authentication - Active Directory, LDAP, RADIUS, Cyberoam (Local)
Multi-layered Client Authentication - Certificate, Username/Password
User and Group policy enforcement
Network access - Split and Full tunneling
Browser-based (Portal) Access - Clientless access
Lightweight SSL VPN Tunneling Client
Granular access control to all the enterprise network resources
Administrative controls - Session timeout, Dead Peer Detection, Portal customization
TCP- based Application Access - HTTP, HTTPS, RDP, TELNET, SSH

Web Filtering

Inbuilt Web Category Database
URL, keyword, File type block
Categories: Default(89+), Custom
Protocols supported: HTTP, HTTPS
Block Malware, Phishing, Pharming URLs
Schedule-based access control
Custom block messages per category
Block Java Applets, Cookies, Active X
CIPA Compliant
Data leakage control via HTTP, HTTPS upload

Bandwidth Management

Application and User Identity based Bandwidth Management
Guaranteed and Burstable bandwidth policy
Application and User Identity based Traffic Discovery
Multi WAN bandwidth reporting
Category-based bandwidth restriction

Web Application Firewall

Positive Protection model
Unique "Intuitive Website Flow Detector" technology
Protection against SQL Injections, Cross-site Scripting (XSS), Session Hijacking, URL Tampering, Cookie Poisoning, etc.
Support for HTTP 0.9/1.0/1.1

Gateway Anti-Virus & Anti-Spyware

Virus, Worm, Trojan: Detection and Removal
Spyware, Malware, Phishing protection
Automatic virus signature database update
Scans HTTP, HTTPS, FTP, SMTP, POP3, IMAP, IM, VPN Tunnels
Customize individual user scanning
Self Service Quarantine area
Scan and deliver by file size
Block by file types
Add disclaimer/signature

Gateway Anti-Spam

Inbound/Outbound Scanning
Real-time Blacklist (RBL), MIME header check
Filter based on message header, size, sender, recipient
Subject line tagging
IP address Black list/White list
Redirect Spam mails to dedicated email address
Image-based Spam filtering using RPD Technology
Zero hour Virus Outbreak Protection
Self Service Quarantine area
Spam Notification through Digest
IP Reputation-based Spam filtering

Wireless WAN

USB port 3G/4G and Wimax Support
Primary WAN link
WAN Backup link

Networking

Failover - Automated Failover/Failback, Multi-WAN Failover, 3G/4G Modem Failover
WRR based load balancing
Policy routing based on Application and User
IP Address Assignment - Static, PPPoE, L2TP, PPTP & DDNS Client, Proxy ARP, DHCP server, DHCP relay
Support for HTTP Proxy
Dynamic Routing: RIP v1 and v2, OSPF, BGP, Multicast Forwarding
Parent Proxy support with FQDN
"IPv6 Ready" Gold Logo

High Availability

Active-Active
Active-Passive with State Synchronization
Stateful failover
Alerts on appliance status change

IPSec VPN Client*****

Inter-operability with major IPSec VPN Gateways
Supported platforms: Windows 2000, WinXP 32/64-bit, Windows 2003 32-bit, Windows 2008 32/64-bit, Windows Vista 32/64-bit, Windows 7 32/64-bit
Import Connection configuration

Certification

Common Criteria - EAL4+
ICSA Firewall - Corporate
Checkmark Certification
VPNC - Basic and AES interoperability - "IPv6 Ready" Gold Logo

Hardware Specifications

| | |
| --- | --- |
| Memory | 4GB |
| Compact Flash | 4GB |
| HDD | 250GB or higher |

Compliance

Dimensions

| | |
| --- | --- |
| H x W x D (inches) | 1.7 x 17.44 x 18.75 |
| H x W x D (cms) | 4.4 X 44.3 X 47.62 |
| Weight | 5.1 kg, 11.24 lbs |

Power

| | |
| --- | --- |
| Input Voltage | 100-240 VAC |
| Consumption | 208W |
| Total Heat Dissipation (BTU) | 345 |

Environmental

| | |
| --- | --- |
| Operating Temperature | 0 to 40 °C |
| Storage Temperature | 0 to 70 °C |
| Relative Humidity (Non condensing) | 10 to 90% |
#If Enabled, will bypass traffic only in case of power failure.
**Additional Purchase Required.
*Antivirus, IPS and UTM performance is measured based on HTTP traffic as per RFC 3511 guidelines. Actual performance may vary depending on the real network traffic environments.
Supports and Subscriptions:
Subscriptions:
Antivirus and Anti Spam Subscription: Protection against Internet and mail based malware
Comprehensive Value Subscription: Comprehensive Value Subscription includes Anti Malware, Anti Spam, Web and Application Filter, WAF, Intrusion Prevention System , 24x7 Support, hardware warranty and RMA fulfillment
Gateway Anti Spam: Zero-hour protection with industry's highest spam detection capabilities
Gateway Anti Virus: Gateway level protection from viruses, worms and malicious code
Intrusion Prevention System: Protects from intrusion attempts, DoS attacks, malicious code transmission, backdoor activity and blended threats
Outbound Anti Spam: Protects service providers from recurring incidents of outbound spam in the network.
Security Value Subscription Plus: Cyberoam Security Value Subscription Plus includes Anti Malware, Web and Application Filter, Intrusion Prevention System , 24x7 Support, hardware warranty and RMA fulfillment
Security Value Subscription: Cyberoam Security Value Subscription includes Anti Malware, Web and Application Filter and Intrusion Prevention System, 8x5 Support, hardware warranty and RMA fulfillment
Total Value Subscription Plus: Cyberoam Total Value Subscription Plus includes Anti Malware, Anti Spam, Web and Application Filter, Intrusion Prevention System, 24x7 Support, hardware warranty and RMA fulfillment
Total Value Subscription: Cyberoam Total Value Subscription includes Anti Malware, Anti Spam, Web and Application Filter and Intrusion Prevention System, 8x5 Support, hardware warranty and RMA fulfillment
Web and Application Filter: Dependable web and application filtering to control and report non-work and malicious web and network traffic activity.
Web Application Firewall: Prevents exploitation of web applications vulnerabilities.
Supports
Basic 8x5 Support: 8x5 Phone, Email and Web Chat support with firmware upgrades , hardware warranty and RMA fulfillment
Premium Support 24x7: 24x7 Phone, Email and Web Chat support with firmware upgrades, hardware warranty and RMA fulfillment
8x5 Basic Support
24x7 Premium Support
Technical Support
Timings
10AM - 6PM (Local Time Zone)
Anytime during the day
Web Based Support
Yes
Yes
Phone Based Support
Yes
Yes
Chat Based Support
Yes
Yes
Number of support incidents per annual subscription
Unlimited
Unlimited
First Response Time
4 Hours
1 Hour
Onsite Support Services*
-
Fee Based Service
Software Support
Software & OS Upgrades and Patches
Yes
Yes
Hot Fixes and Enhancement upgrades
Yes
Yes
Signature & database update
Yes
Yes
Hardware Warranty
Limited Hardware warranty & Replacement
Yes
Yes
Return and Replacement policy
10 Days
4 Days
Advanced Hardware Replacement
-
Yes
Customer Portal
Product Documentation and Guides
Yes
Yes
Technical Trainings - CCNSP & CCNSE Certifications
Fee Based
Fee Based
Online Demo
Yes
Yes
Version Release Notes
Yes
Yes
Support Renewals
One, two and three (1, 2 and 3) Year Renewals
Yes
Yes
Download the Cyberoam Basic Support Plan Datasheet (PDF).
Download the Cyberoam Premium Support Plan Datasheet (PDF).