Cyberoam Central Console
Central Security Control for MSSPs and Distributed Enterprises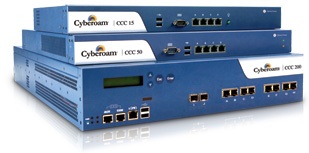 Sorry, this product is no longer available, please contact us for a replacement.
Overview:
Distributed Threat Control
Zero-hour threats that spread to millions of computers within hours, outpacing traditional security solutions are threatening enterprise networks. Blended attacks in the form of viruses, worms, trojans, spyware, phishing, pharming are compromising networks through entry at the weakest points of enterprise infrastructure - remote and branch offices - that are generally not equipped to handle complex threats.
For geographically distributed networks of large enterprises and Managed Security Service Providers (MSSPs) that provide multiple security devices at distributed locations, this delays attack response across networks while offering poor visibility into remote network activity. The fact that remote offices and managed client networks do not have qualified technical manpower to handle attacks compounds the delay. All the same, enterprises struggle to implement, monitor and control a uniform security policy, raising security, productivity and legal issues. Hence, the ability to identify, impact and take rapid enterprise-wide action is a pre-requisite to enforcing distributed security. For MSSPs, the ability to implement a broad security policy across multiple clients simplifies operations while maintaining high security across client networks.
Cyberoam Centralized Threat Management
Cyberoam Central Console (CCC) offers coordinated defense against zero-hour and blended threats across distributed networks. It enables enterprise-wide implementation of corporate Internet polic configuration of an enterprise-wide security policy that strengthens branch and remote office security while lowering operational complexity. centralized, ies. Through configuration, enforcement of global policies as well as traffic scanning for Firewall, Intrusion Prevention System, Content-Filtering, Anti-virus and Anti-spam, CCC supports the configuration of an enterprise-wide security policy that strengthens branch and remote office security while lowering operational complexity.
CCClowers the operating cost of deploying, upgrading and maintaining multiple devices in the enterprise, offering complete control over distributed networks from the central office or the Security Operations Center (SOC) of MSSPs. CCC supports CR15i, CR25i, CR25ia, CR35ia, CR50i, CR50ia, CR100i, CR100ia, CR200i, CR300i, CR500i, CR1000i, Cr1500i.
Identity-Based Policy Implementation
The CCC enables administrators to push work-profile based security policies to remote locations thus allowing implementation of enterprise wide standard security policy. This fully leverages Cyberoam's unique user identity-based security approach. The CCC also enables single point implementation of compliance measures for large enterprises and MSSPs. It is compliant across the board with CIPA, HIPAA, GLBA, PCI-DSS and SOx.
Alerts and Audit Logs
The CCC sends instant email alerts on device configuration changes taking place across distributed networks. This enables the administrator to take corrective actions for changes in device connectivity status, unchanged default passwords, change inCCCupdate repository, etc. The CCCalso provides audit logs to support configuration and policy changes on distributedCRdevices, support addition and removal of devices, create, modify and delete policies and rules and keep track of successful/unsuccessful log-in attempts. To view the audit log, administrators use appropriate data filters.
Features & Benefits:
Features:
Benefits:
Centralized Configuration and Control

Reduces operational complexity and deployment time
Minimizes errors and lowers administration cost

Device-Group Base Roles

Enables the MSSPs to have different personnel for managing different customer deployments

Centralized Monitoring and Control

Enables real-time visibility of threat summary and trends for instant action

Centralized Policy Definition and Enforcement

Centralized definition and real-time enforcement of security policies and custom IPS signatures enables immediate action against zero hour threats

Web Based Interface and Dashboard

Ease of use with view of multiple devices and networks statue at a glance
Screenshots:
Centralized Device Management
Cyberoam Central Console's centralizedWeb GUI enables remote management of all distributed Cyberoam security devices including policy management, compliance enforcement, monitoring and control. Cyberoam's easy-to-deploy and configure central console manages the task of configuring remote groups, devices, users and roles in easy steps.
Easy Configuration using Web Interface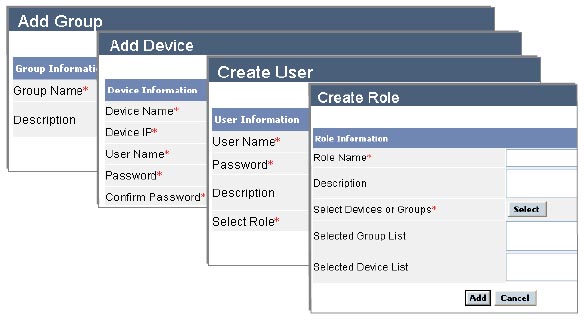 Policy Enforcement for Compliance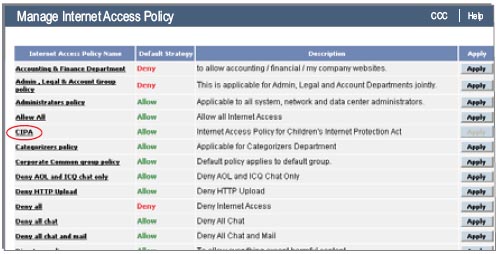 Policy flexibility to support business requirements
Create and implement enterprise-wide policies that are in accordance with corporate human resource guidelines to maintain the same levels of productivity and security measures across enterprise. MSSPs can apply differential policies across the different enterprises whose security they manage.
Centralized Policy Definition and Enforcement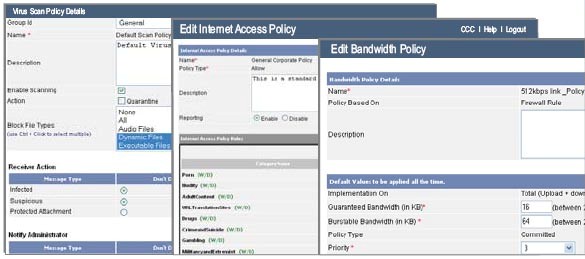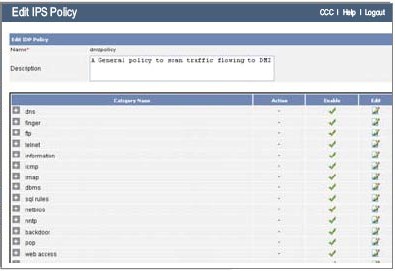 Instant enforcement of security policies in response to zero hour threats
Create and enforce Firewall rules, custom IPS policies using custom signatures to protect your enterprise from the latest threats, update remote Cyberoam devices from the Cyberoam Central Console and protect branch, remote or distributed offices with the same technical competency as the central location.
Centralized Firewall rule definition

Custom IPS Signatures
Create custom IPS signatures and enforce them across the distributed networks for instant enterprise-wide security response to emerging threats.

Instant enterprise-wide security visibility
Cyberoam Central Console enables central monitoring, ensuring instant action that provides uninterrupted security across networks. Monitor the remote and distributed offices through instant visibility into their network status. Take instant action by real time enforcement of security and firewall policies to control the attack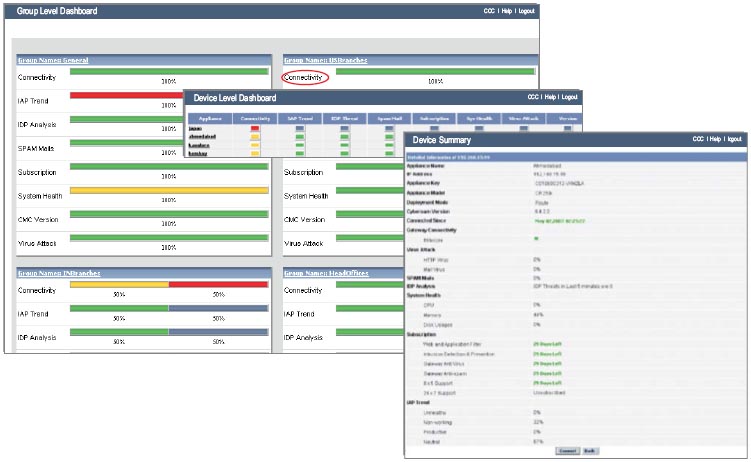 Deployment:
Cyberoam Central Console Deployment- MSSP

Cyberoam Central Console Deployment- Large Enterprise
Specifications:
Technical Specifications:
CCC 15
CCC 50
CCC 100
CCC 200
Interfaces:
10/100/1000 GBE Ports
6
6
6
6
Console Ports (Rj45)
1
1
1
1
SFP (Mini GBIC) Ports
-
-
-
2
USB ports
2
2
2
2
Dimensions:
H x W x D (inches)
1.72 x 17.25 x 11.5
1.72 x 17.25 x 11.5
1.72 x 17.25 x 11.5
1.72 x 17.44 x 15.98
H x W x D (cms)
4.4 x 43.8 x 29.21
4.4 x 43.8 x 29.21
4.4 x 43.8 x 29.21
4.4 x 44.3 x 40.6
Weight (kg, lbs)
5.54, 12.188
5.54, 12.188
5.54, 12.188
6.04, 13.31
Power:
Input Voltage
100-240 VAC
100-240 VAC
100-240 VAC
100-240 VAC
Consumption
128W
128W
128W
185W
Total Heat Dissipation (BTU)
375
375
375
475
Environmental:
Operating Temperature
5 to 40 °C
5 to 40 °C
5 to 40 °C
5 to 40 °C
Storage Temperature
0 to 70 °C
0 to 70 °C
0 to 70 °C
0 to 70 °C
Relative Humidity (Non condensing)
10 to 90%
10 to 90%
10 to 90%
10 to 90%
Cooling System (40mm Fan)
3
3
3
3
No. of CR Devices Supported
15
50
100
200
Full Feature Set:
System Management

Secure Web Based User Interface
Command line Interface
Secure Command Shell (SSH)

Administration

Roll based Administration
Configure Basic System Settings
Restore Factory Default System Settings
Backup and Restore option
Audit Log
Device Management

Add/Delete Devices
Device grouping

Distributed Administration

Local Administrator Accounts
Device and Device Group Administrator Accounts

Alerts

Schedule Email Alerts
Device or Device Group based Alerts
Unchanged default passwords for Administrative consoles
Unregistered Device
Subscription expired
Device version Upgrade required
Successful Device Version upgrade
Change in Device connectivity status
Device System Health
Device Virus threats
Unhealthy traffic
IPS attack
Spam attack
Signature - Antivirus and IPS Upgrade required
Filtering Categories Upgrade required

Centralized Remote Management

Configure and Manage

Individual Devices
Device Groups

Global Enforcement

Firewall rules and parameters
Host and Host Group
Service
Schedule
Internet Access Policy
Bandwidth Policy
IPS Policy and Custom Signatures
Anti-virus and Anti-spam policy
Custom Web Categories
Custom File Type Categories
Custom Application Category

Configuration Management

Backup and Restore of Configuration
Signature updates

SNMP (v1, v2c, v3)
Syslog settings
NTP server support
Communication

SSL RC4 128bit Encryption
Mutual Authentication

Real-time Monitoring

Dashboard
Monitor by

Devices
Device Groups
Device and Device group Information Notifications

Track System health
Monitor IPS Threats
Mail and HTTP Virus attacks monitoring
Monitor and track spam
Web Surfing Trends
Device Connectivity status
View Device Information

Deployment mode
Network details
Appliance key and Model
Software Version
Subscription details

Authentication

User Authentication

Local Authentication
Active Directory Integration
External LDAP/RADIUS Integration

Compliance

Upgrade Manager

Upgrade AV and IPS signatures
Upgrade Content filtering Categories
Upgrade Devices